Published in Tico Times, on 24th of March 2015
SAN SALVADOR, El Salvador — Archbishop Óscar Arnulfo Romero knew they would kill him. Other priests in the country had already been murdered, and it was becoming obvious that the death squads didn't back away from executing anyone. But since the assassination of his friend, the Jesuit priest Rutillo Grande in 1977, Romero was determined to expose the killings and torture that were happening in his country, even if it cost him his life. This was his chosen path.
"If they kill me, I shall rise again in the Salvadoran people," Romero said shortly before his death.
Thirty-five years later, it's clear he was right.
On Tuesday, the chapel at the Hospital Divina Providencia in San Salvador, where Romero was shot and killed at the altar while giving a speech, was packed with people who came to honor the former archbishop. People even stood outside, listening through the windows.
President Salvador Sánchez Cerén came to the commemoration and delivered a speech about the importance of caring for the poor. After the ceremony, a huge mass was held in the Metropolitan Cathedral.
Still a troubled country
Sister Isabel Cruz, a 26-year-old nun who attended the mass, said Romero symbolized protection for the poor.
"His message is still very important, because not much has changed since Romero's time," Cruz said. "There are still huge contrasts in this country; poor people are still oppressed. Nowadays, they work in factories instead of in the coffee plantations, but still they have to work 11 hours a day."
Religion is deeply ingrained in El Salvador, a country named for Jesus Christ. But modern-day El Salvador isn't a paradise at all: the country is torn by ongoing gang wars and one of the highest crime rates in the world. The country's upper class can pay for private security, visible in the armed guards stationed at the entrance to neighborhoods like Escalón or San Benito. But nobody is really safe here. The harder police crack down on the gangs, the more they seem to organize.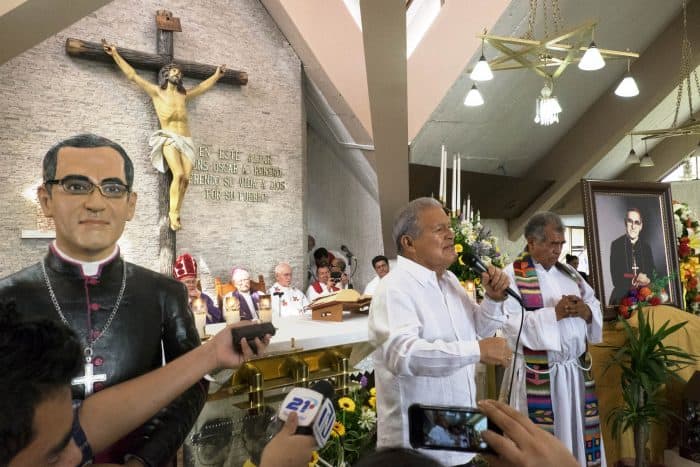 Meanwhile, many of the country's poor face threats and extortion on a daily basis.
The heart of El Salvador
It took the Vatican a long time to acknowledge Romero as a martyr. Critics said Romero died because of his political message, not his religion. Eventually, history proved that most of the murders and tortures Romero denounced were carried out by the U.S.-backed, right wing government and the Salvadoran army.
A tomb below the Metropolitan Cathedral holds the body of Romero. There's a brass monument there where people cried and prayed on Tuesday. For many Salvadorans the Catholic Church's acknowledgment of Romero as a martyr was a long awaited moment, as is his soon-to-be beatification. For many people his message of love and hope was something to hold on to during the dark years of the country's civil war, which lasted nearly 13 years.
"He is the heart of El Salvador," said Luz Gloria Levas, 72, after drying her tears. "He died for the truth and for peace."
Father Vidal Rivas, a Salvadoran-born priest living in Washington D.C., said that the recent acknowledgment of Romero has much to do with Pope Francis.
"Being Argentinian born, this pope better understands the importance of Romero in Latin America," Rivas said. "Romero was a clear spiritual guide and inspiration for Pope Francis himself, too."
Archbishop Óscar Romero will be beautified in a ceremony in San Salvador on May 23.